If the bride's custom designed gown had anything to say about it, this wedding was fabulous. Traditionally New York classic, with black ties and a cathedral length veil. A Kennedy-esque feel to the whole shebang. A crisp fall day in the city. And images from Craig Paulson Photography. Everything with a subtle nod to fabulous. And that is the kind of wedding that can get anyone out of a Monday morning funk. Especially with a trip to the gallery!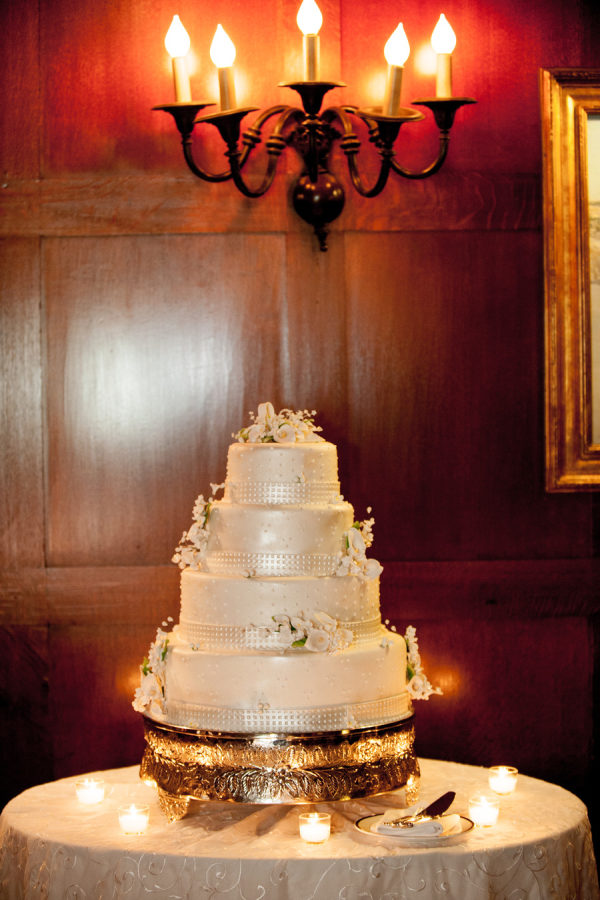 Rob and I have known each other for over 15 years as our families were neighbors and friends. We went to high school together, I played Field Hockey with his sister, and we kept in touch through his family's annual Thanksgiving Holiday party. I thought Rob was very cute, and I always looked forward to seeing him at this annual event, but since we lived on opposite coasts for many years, our relationship was nothing more than a family connection. It wasn't until we both moved to Manhattan after getting our MBA's that we reconnected, started to date, fell in love and got engaged (on the High Line no less). It was only fitting to celebrate our marriage in the city where our relationship blossomed, and our wedding was exactly the classic New York wedding I had always wanted.
We were married on October 13, 2012 at Fifth Avenue Presbyterian Church with a black tie reception at the University Club of New York. The date itself was important to us for a few reasons; it was a year after we got engaged, and also the same weekend my parents were married 43 years earlier. I always wanted to have a similar romantic fall wedding, and nothing is more beautiful than the fall in New York. The vision for our wedding was classic, timeless elegance. From the dress to the table settings, I avoided the trends and wanted a wedding that would last the test of time; even some of the elements delivered on a style and aesthetic I had been envisioning for years.
Our invitations were very traditional, and immediately set the tone for the affair. We had custom engraved invitations with a simple black Eaton font without any other frills. It was just the right understated design, finished beautifully with bold hand addressed calligraphy.
I always knew exactly the style of wedding gown I wanted to wear on my special day. Channeling Audrey Hepburn and Grace Kelly, my ideal style was modest, simple but dramatic. My vision was so specific that I ended up designing my own gown and had it custom made with the help of the fabulous Birnbaum & Bullock wedding atelier. The fabric was a thick ivory duchess satin. The gown had a high boat neckline with a fitted bodice that tapered in at my natural waist accentuated with a skinny belt. The dramatic skirt began with large box pleats all around the waist leading into a full skirt and a stunning train, and also included pockets! Tiny satin covered buttons cascaded down from the back of the neck all the way through the tip of the train. Several petticoats added to the fullness of the skirt, which paired well with an equally full cathedral length multi-layered veil. The gown was everything I had always wanted; I felt elegant, comfortable, and feminine.
I always worried that the big day would go by too fast and looking back I am happy to say that I enjoyed and remember every moment from the time I woke up until the band played their last song. After getting hair and makeup done at Elizabeth Arden Red Door Salon on Fifth Avenue, I was ready for an exciting photo session with the wedding party. We took photos throughout the stunning University Club, Central Park, and along Fifth Avenue. I will never forget walking throughout the city on that crisp and sunny fall day, with my bridesmaids holding my train and every passerby cheering for us, taking photos and wishing us congratulations! We even stopped traffic on Fifth Avenue for a classic photo in the middle of the street with a romantic dip and a kiss.
The ceremony at the stunning Fifth Avenue Presbyterian Church was traditional and filled with love. The programs were engraved with custom plates in a similar style to the invitations, the pews were trimmed with white rosebuds spray roses and ribbon, and the alter was dignified with a large silver trumpet vase overflowing with gorgeous white and crème hydrangea, lisianthus, and roses. The bridesmaids wore golden "latte" strapless long satin gowns with a cascading ruffle and chic slit. They carried tight white bouquets of roses and calla lilies, complimenting my bouquet of a round and tightly shaped clustered bouquet of Vendella roses combined with Majolica spray roses and rosebuds. The groomsmen were dapper in black tuxes with white calla lilies on their lapel, coordinating with the groom wearing a white rosebud.
We exited the church and our guests celebrated by tossing rose petals on us as we lead the group on a memorable but short walk to the reception just one block away. The University Club was the perfect classic venue we were looking for and their team not only brought our vision to life, but treated us like we were part of their family. Rob and I wanted to make sure we had time to enjoy the moment with our close friends and family, so while the rest of the guests made their way up to the main dining room on the 7th floor, we gathered for a brief cocktail and toast.
On the 7th floor, guests were greeted with a stunning tall trumpet vase brimming with white blooms and greens that accompanied their table cards done in the same hand calligraphy of the addresses. A cocktail hour included numerous passed hors d'oeurves such as oysters, tuna tartar, and caviar, and was an exciting moment for us to join all our guests for the celebration. The main dining room was so gorgeous in itself with its tall ceiling, gold sconces, fireplaces, traditional paintings and two-floor high windows with royal draperies, that we didn't need to add much to create an elegant effect. Each table included a silver gallery bowl with a ball of 100 white Vendella roses, paired with tall silver candlestick and 24" tapers, as well as numerous votive candles.
From the moment entered the dining room and came on the dance floor to "Into the Mystic" by Van Morrison, The Pete Saunders Band had the whole wedding dancing the night away. We wanted to make sure our guests had a good time, and with their nonstop mix of 80's classics, rock anthems, and pop hits, the dance floor was never empty! Everything was timed perfectly with long dance sets, a sit down dinner, and maid of honor and best man speeches. The three course dinner was decadent and classic and included a seafood salad, roasted veal chop or seared red snapper, and a chocolate trio or a warm apple tart; not to mention the 4 layer vanilla wedding cake with lemon crème and fondant icing with calla lillie detail.
The big day came to end an end with cutting the cake on the middle of the dance floor, and a touching toast from the groom. Our wedding was brought to life with every elegant detail, but it was made memorable because of the love the filled the day; our guests could feel the love and adoration we had for each other, and we felt so loved and blessed to share the occasion with our closest friends and family.
Photography: Craig Paulson Photography | Florist: The Garden Shop | Venue & Catering: The University Club | Officiant Rev. Dr. Scott Black Johnston | Gown Boutique: Custom via Birnbaum and Bullock | Musician/DJ: Hank Lane | Hair and makeup: Elizabeth Arden Red Door Salon | Ceremony: Fifth Avenue Presbyterian Church | Band: The Pete Saunders Band | Bridesmaid Dresses: Dessy Social in Latte satin | Cake: The University Club | Stationery: Arzberger Stationers | Bride's Earrings: Pearl and diamond drop earrings from an Estate Sale | Bracelet: Pearl 3 strand bracelet from Grandma's collection | Rings: David Yurman / Right Hand Ring: Albion | Bride's Shoes: Grazia
© Style Me Pretty : The Ultimate Wedding Blog, 2013. | Permalink | Comments | Add to del.icio.us
Post tags: Library, Wedding Photography
Post categories: Real Weddings, Traditional Elegance


Style Me Pretty : The Ultimate Wedding Blog