After spending all my time around the sweetest little gentleman for the last two months, I'm back. And coming back would have been a whole lot harder if I didn't have pretty weddings like this one from SMS Photography to look forward to. Seriously, if I can't be squeezing little baby cheeks 24/7, spending my time with weddings in which the groom made the bride's bouquet is a pretty close second. It's wedding's like this, handmade with love, that put a smile on my face, every single time. And for your smile, there's a whole gallery of love.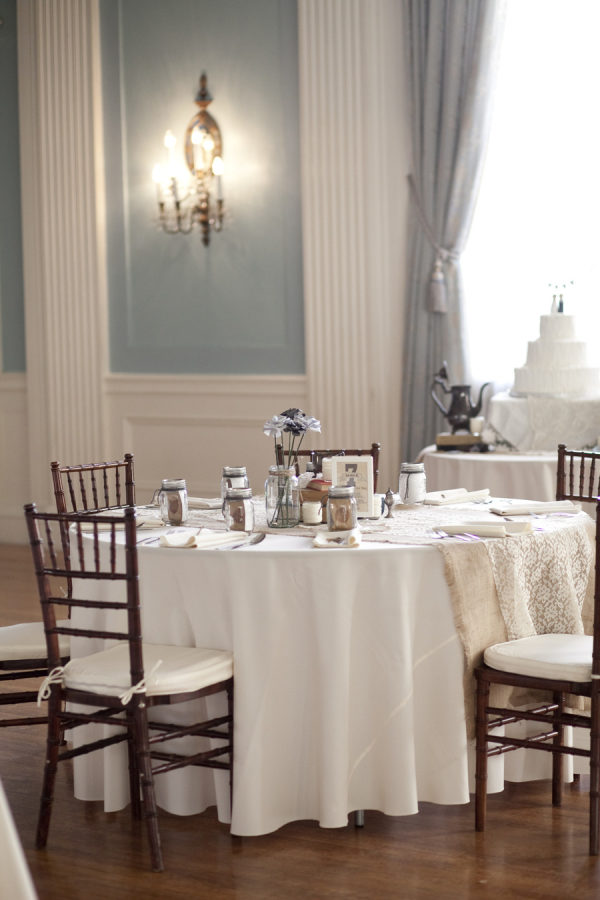 From the Bride… From the second we got engaged Brett and I both pretty much knew that we wanted our wedding to be a reflection of who we are. We started with each picking our favorite colors (Brett's is baby blue and mine is gray) as our wedding colors… after all it's all about compromise, right?! We both have a love of finding mismatched and old things and either refinishing them or making them into something else entirely so it was only natural that our 'decor' was a collection of thrift store finds and handmade goods. Once the overall eclectic/vintagey feel was settled, next up was finding the right place to say 'I do'.
Though we live in Los Angeles we planned to get married in Austin, Texas and we fell in love with Texas Federation of Women's Clubs. It's a gorgeous old mansion that required no decorating of the walls or grounds (since we were getting everything together in Los Angeles and hauling it down, this was a huge plus for us). With that portion of decor taken care of, we were able to spend lots of time on the details, and boy did we!
I designed and printed our Save the Dates, Wedding Invitations, and all printed items at the wedding which was quite the fun task (I even brought my laptop and printer to the bridal suite the day of the wedding just in case something was missing or needed to be reprinted). We chose to craft all of the bouquets and boutonnieres out of fabric flowers we made (Brett made all the flowers in my bouquet which was a pretty special touch) and all the table flowers were made out of paper. We're game people so we designed our wedding program with a word find about us on the back and used Scrabble letters on several of the tables. Our love of music led us to naming our tables after songs and instead of having 'Table 1′ we had 'Track 1″ to keep in the music theme. We cut all the lace and burlap for the table runners and wrapped tons of little votives with yarn to achieve just the right gentle glow. We collected many books, silver pieces, and antique odds and ends including vintage plates for the dessert bar. We did our best to tailor most things so that we had a hand in just about everything at the wedding. I even woke up a little before 6:00am the day of the wedding and started baking cookies, brownies, rice krispy treats, etc. for the dessert bar because… well.. because I wanted everything to be fresh (and yes I do love baking, and yes it was relaxing… my version of yoga I guess. And well yes, I am a bit of a control freak).
For months our place in LA was a constant workshop with glue guns, lace, fabric, paint, etc. everywhere… we worked like maniacs, luckily all the crafting was a pretty good time! And, if you live anywhere within a mile radius of us, you may have heard loud banging and clanking… no we weren't demolishing our house, Brett was just busy hammering 100 spoons flat and then individually indenting letters on each one. Lots of work… but man, oh man did they make incredible place cards!
I had anticipated being incredibly stressed or nervous the day of the wedding, or at least having some sort of meltdown. Much to my surprise and delight I was stress-free and just incredibly excited to marry Brett. We decided to have a first look so that we could share that most intimate of moments with just one another (and a few photographers and videographers of course). I'm so glad we made that decision as seeing Brett for the first time and being able to immediately wrap my arms around him is one of my favorite memories of the day. There's a laundromat across the street from the mansion and we just had to have some pictures taken there, after all married couples do laundry together… just not typically in their wedding attire.
The day flew by and we had such a fantastic time. The ceremony was beautiful, the cake was delicious, and we danced all night. My five year old nephew even took over the D.J.'s microphone and serenaded us with a few songs. We also had a flipbook booth which was a huge hit. We had two guestbooks, one was a tree that Brett drew for guests to stamp with leaves and the other was an address box where guests were able to fill out their contact information as well as leave a little message. For wedding favors we chose to fill mason jars with a little 'Thank You' note and place a packet of our homemade Arnold Palmer mix to allow our guests to enjoy one of our favorite drinks. I did a quick dress change before the last song and Brett and I exited as our guests blew bubbles and shouted farewell.
Our wedding was without a doubt our handmade dream and we couldn't have done it alone. Nothing beats having the people you love the most create and build things for one of the most important and special days in your life. For me this was icing on the tasty cake we got to enjoy! We had the most wonderful time and enjoyed every second. We'd without a doubt do it all exactly the same again.
Wedding Photography: SMS Photography | Wedding Coordination: Kevin Molesworth of  Brass Tacks Events | Cinematography: Adam Grumbo | Decor: DIY by bride and groom | Desserts: Prepared by the family | Dress: Maggie Sottero | Shoes: Nine West | Hair: Deklynd Channing Hair Design | Venue: Texas Federation of Women's Clubs | DJ: Tim Dill with Austin Party Machine | Catering: Courtney's Catering
© Style Me Pretty : The Ultimate Wedding Blog, 2013. | Permalink | 1 comment | Add to del.icio.us
Post tags: Fabric Flowers, Paper Flowers, Scrabble
Post categories: Do-It-Yourself Inspired, Real Weddings


Style Me Pretty : The Ultimate Wedding Blog