Inspired by the story of this historical home, Geneve Hoffman Photography, Beautiful Days and their whole talented team put together a batch of beauty. A story told three ways, all of which spectacular. From the romantic tale of the lovebirds at center, to the timeless design, to the amazing images, it's the kind of soiree we would die to see come to life. Visit the gallery for even more inspiration!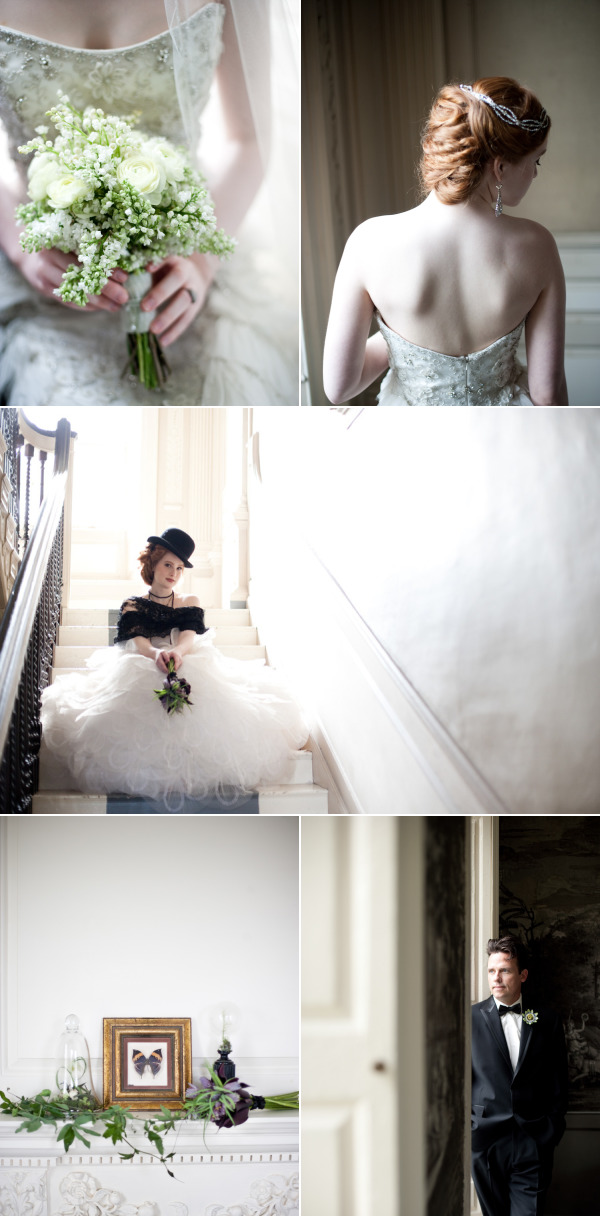 And for a behind the scenes look at this stunning shoot, here's a film from Meg Simone Wedding Films:
From the photographer … We were hired by The Wentworth Gardner & Tobias Lear Historical Home Board of Directors to create a bridal shoot to show clients ideas on how to use the home for both wedding photography portrait sessions, and possibly small weddings. Portsmouth, NH is one of the most historically restored colonial era towns on the East Coast, and both Kate and I were drawn to this project immediately. We thought… how we can both incorporate and pay homage to the historical details and stately charm of the house, but also appeal to a modern bride? A fun challenge that we embraced on every level!
In 1760, the house was a wedding gift from the Wentworth family to their son Thomas. When Kate Martin, a designer who owns Beautiful Days in South Berwick Maine and I toured the immaculately restored house, which is one of the finest Georgian style homes in the country, and heard all the romantic stories of it's early inhabitants, our imagination went wild.
We started to build a story around a fictional couple, the younger and slightly whimsical Anne Adele & the older, reserved, aristocratic, Thomas Mason Bell. They are clearly meant to be a modern couple, but we created three "looks" or "eras" for the couple that went from very formal/historical to hip/vintage to edgy/modern. All the local wedding creatives that got involved believed in and understood our story line from the beginning and couldn't wait to lend to hand in creating this late 17th century fairy tale.
Meg Simone, a very sought after wedding filmmaker in New England, documented the whole day for us as well.
We hope you enjoy taking in all the fun details and moments of this fictional, romantic wedding …and maybe get some ideas for your own historically inspired wedding day.
Photography: Geneve Hoffman Photography | Linens, Chairs, Rentals: Be Our Guest | Styling, Design, Floral Design: Beautiful Days | Wentworth Gardner/Tobias Lear House Board & Staff: Laura Pope, Stacey Fraser deHaan, Margot Doering | Models: Bear Kirkpatrick & Emily Grondine | Hair design: Wedding Tresses, Jacki Norrie | Make Up: Glow Bodywork & Just Bee, Nicole Masterson; Kristin assisted | Cake Design: Beach Pea Bakery | Jewelry: Puttin on the Glitz | Stationary Design: Erin Flett | Dresses + Shoes + Veil: Madeleine's Daughter | Food Styling & Design: Charlie Cicero, Anneke Jans | Seashells & some decorations: Scallops | Wedding Film: Meg Simone Wedding Films | Venue: Tobias Lear House
© Style Me Pretty : The Ultimate Wedding Blog, 2013. | Permalink | Comments | Add to del.icio.us
Post tags: Wedding Photographers, Wedding Planners & Designers
Post categories: Photo Shoot, Wedding Style


Style Me Pretty : The Ultimate Wedding Blog