I'm going to go ahead and say it, I am in love with these two. They are absolutely, unarguably adorable, and they completely won me over with their description below (which is a must read, btw). Also winning me over? The wedding of my dreams they hosted with the the help of AWOL in Granada, Spain. Yep, that's pretty darn fabulous. Every corner you turn of this well thought out fête is perfectly styled, right down to their guest list – who all happen to look straight out of the movies. Long story short, this is one you can't miss, and thanks to Andi Hatch Photography, you don't have to. See it all here.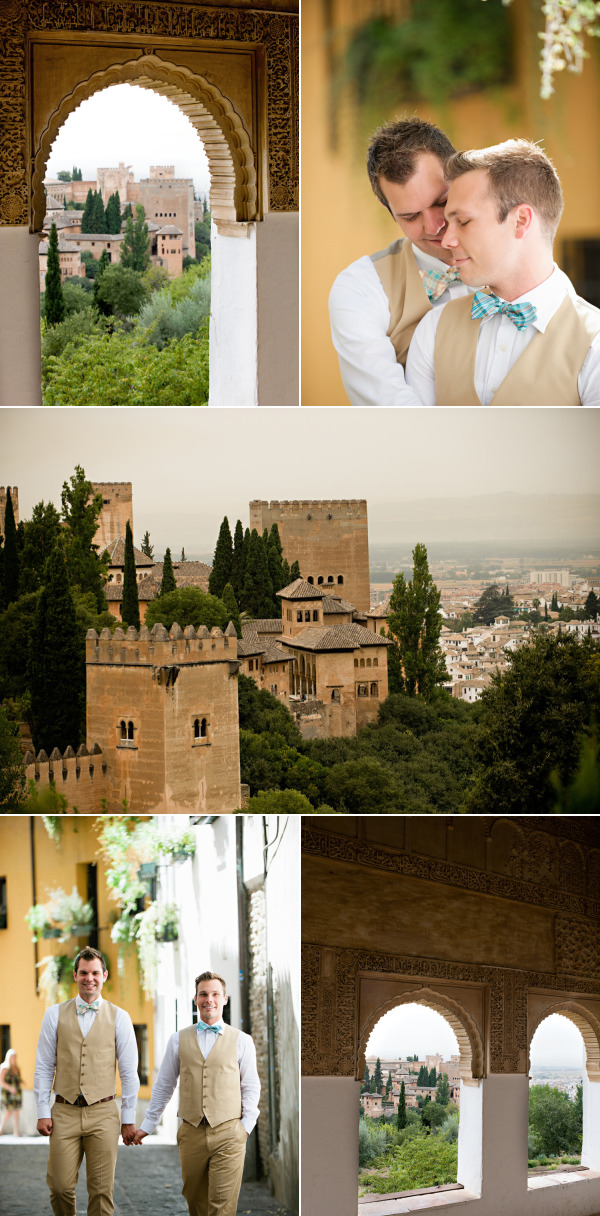 From the Grooms… Once upon a time in a land far, far away, where matadors are kings and gypsies are queens, a boy married another boy surrounded by close family and friends. When Kaleb, a transplant from the midwest, met the taller California dreamy Nic six years ago, they couldn't imagine the travels they'd see and the love that would grow between them. Nic proposed to Kaleb on an eco resort surrounded by the cacophony of flamingos and natural wildlife and backlit by the Yucatan sunset in 2010.
With a two year engagement, the couple wanted every detail to be picture perfect, a little bit quirky, and most notably them. If only they could settle on a destination. Nic chose Europe, while Kaleb dreamed of the Costa Rican shores. Keeping with the Spanish flare and their mutual love of travel, Nic and Kaleb finally agreed Granada, Spain–with its cobblestone streets, deep flamenco roots, and tapas culinary culture–would be the perfect backdrop to say their I Dos. A year out, Nic and Kaleb enlisted the help of a fabulous local wedding planner, Theresa Guthrie of AWOL Weddings, for help in selecting the venue, contract negotiations, menu preparation, music, and priceless recommendations on activities for wedding party and guests alike.
Fifty guests from all over the US descended upon Granada for festivities starting three days prior to the wedding. As they arrived, they were greeted with a personalized welcome bag filled with Andalusian treats. The welcome bag also included a passport booklet with helpful hints on food, culture, language, information on the week's events, wedding guest accommodations, and gratitude from the couple.
The couple wanted the intimate ceremony to reflect them as partners and honor Granada and Spanish culture. The ceremony was held at La Chumbera in the historic Sacromonte area of Granada known for it's Gypsy caves and majestic views of the Alhambra. Nic and Kaleb had two simple requests of guests: wear bright colors (no black)–after all it is a celebration and not a funeral–and have fun! Upon arrival,
Paying homage to Spanish customs, the couple chose to incorporate the Spanish Arras tradition, or Giving of the Coins, into their wedding. Traditionally, the Arras symbolize the wealth given from the man to the woman and then is tithed back to the church. The couple took a unique approach to the arras and had the thirteen coins symbolize various characteristics of a good partnership and marriage (love, health, happiness, fun, etc.). Instead of having one give to the other, they requested that different friends and family give a blessing to the couple and place the arras in a box. Keeping with their travel theme, each of the arras were different coins collected from their respective travels around the world. Both the grooms wrote their own vows to one another and read them without a dry cheek in the crowd.
Afterward, guests were invited to a cocktail hour with tapas to start the evening's meal. Each guest was sat at a Table designated by a particular airport code from the couple's travel repertoire. Nic's parents had custom bull and matador cookies made with the groom's likeness for each place setting. In typical Spanish style, guests enjoyed a decadent meal featuring both a fish and meat course. Nic and Kaleb danced to Marry Me by Train with a backlit Alhambra and perfectly hung crescent moon in the starry sky. Best man and Maid of Honor speeches tugged and strummed the heartstrings of every one. With a beat, the night transformed into a Spanish discoteca, leaving the guests and newlyweds to dance the night away, happily ever after.

Wedding Photography: Andi Hatch Photography | Wedding Venue + Catering: La Chumbera in Granada, Spain | Wedding Coordination: Theresa Guthrie from AWOL in Granada | Wedding Cinematography: Becky Sharpe | Floral Design: Floristeria Nerine | Music: Mark Shurey | Ephemera: DIY by the Grooms | Grooms' Attire: J.Crew

© Style Me Pretty : The Ultimate Wedding Blog, 2013. | Permalink | Comments | Add to del.icio.us
Post tags:
Post categories: The Blog


Style Me Pretty : The Ultimate Wedding Blog