I have a self-confessed obsession for any and all Marvimon weddings. But a wedding that takes that cool, indie-inspired space and transforms it into an elegant affair with the feel of an indoor garden; now that just might be my new favorite Marvimon combo. Kat Keane executed the gorgeous details, The Conservatory crafted the blooms and One Love Photo worked her magic behind the lens. The result is a day that starts with the prettiest getting ready shots and ends with a sweeping bow and you can see it all right here.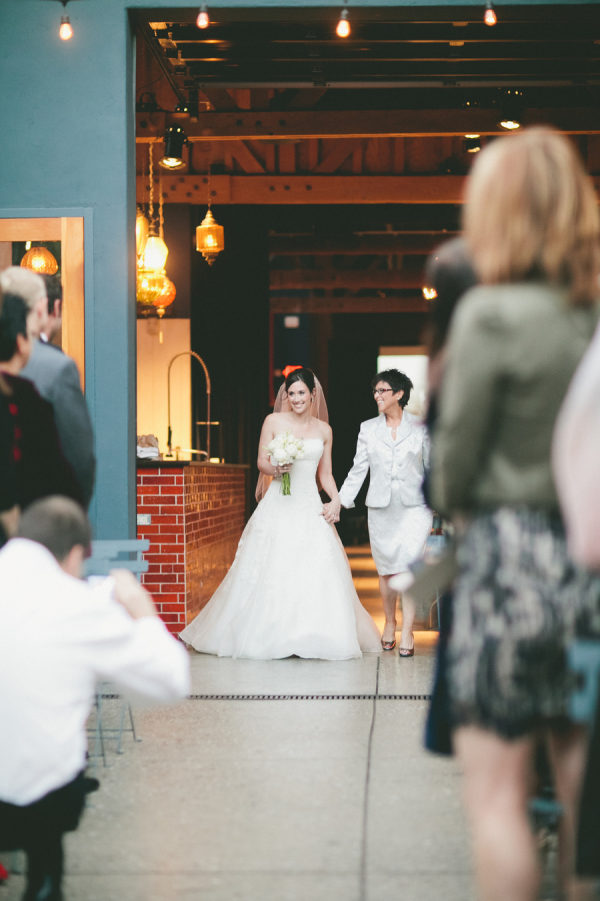 From the Bride… Matt and I were less concerned about the checklist of traditional wedding things and spent time on how we could craft an evening (and a party!) to share with our friends and family that was truly representative of us a couple. Every decision was an opportunity to incorporate something from our lives that was important to us. Food is a very important part of our lives. We decided on an Italian, family-style meal because I am Italian and we like the way passing food up and down the table inspires people who don't know each other to connect. It creates a sense of family. Instead of printing menus, we had a good friend (and regular dining partner) announce our meal and describe each course.
Music was another important element for us. We chose hits from the 30′s and 40′s for outdoor, pre-dinner/post-ceremony cocktails. We kept our dinner music upbeat from Motown to Erykah Badu to James Taylor – designed to keep toes tapping and wine glasses full. For dancing, we leaned towards off-the-beaten path hip hop and classic rock, interspersed with recognizable songs from every decade. We made sure that the choices were familiar but not obvious.
We went with a neutral color palette with lots of texture. Dusty rose, taupe, gray and nudes. I did the programs, place-cards and favors myself and am really happy with how they turned out. We did our seating chart on old, peeling window panes with a white paint pen. They are now hanging on our patio. I am loving our guestbook – Matt had a typewriter from the 40′s that he used when he was a little boy. We got a long roll of paper, put up some instructions next to it and let people go crazy with it. We ended up with a 7 foot piece of paper full of well wishes, lovely thoughts and really funny typos. We framed it and hung it in our bedroom.
After the months of hard work, the research, the interviews, the planning and the stress, we were thrilled that the wedding was as amazing as we hoped it would be. To this day, many people comment wistfully about the true love and joy that it inspired and we're hoping to carry that very same feeling with us for many years to come.
Photography: One Love Photo | Event Designer and Coordinator: Kat Keane | Hair and Makeup: Kaylie Gipson | Cake: Rosebud Cakes | Caterer: Eco Caters  | Videography: Alumiq | DJ: Red Shoe LA  | Flowers: The Conservatory | Venue: The Marvimon |Officiant: Gina Zimmerman
© Style Me Pretty : The Ultimate Wedding Blog, 2013. | Permalink | Comments | Add to del.icio.us
Post tags: Family Style Seating, rustic romance, vinatge typewriter, Vintage Windows
Post categories: Casual, Real Weddings, The Blog


Style Me Pretty : The Ultimate Wedding Blog