Girls dream for years (and years) of the perfect wedding gown to slip their tootsies in on their biggest of big days, but what about the groom? Doesn't he deserve to be equally dapper? Why of course he does, and thanks to Alton Lane he can go from disheveled to dashing in no time flat. And this is one wedding errand they'll beg to attend, because with a bar and TV at all of their showrooms, shopping goes from daunting to downright dreamlike for the man in your life, making Alton Lane a must visit for sure. Your hubby-to-be will thank you.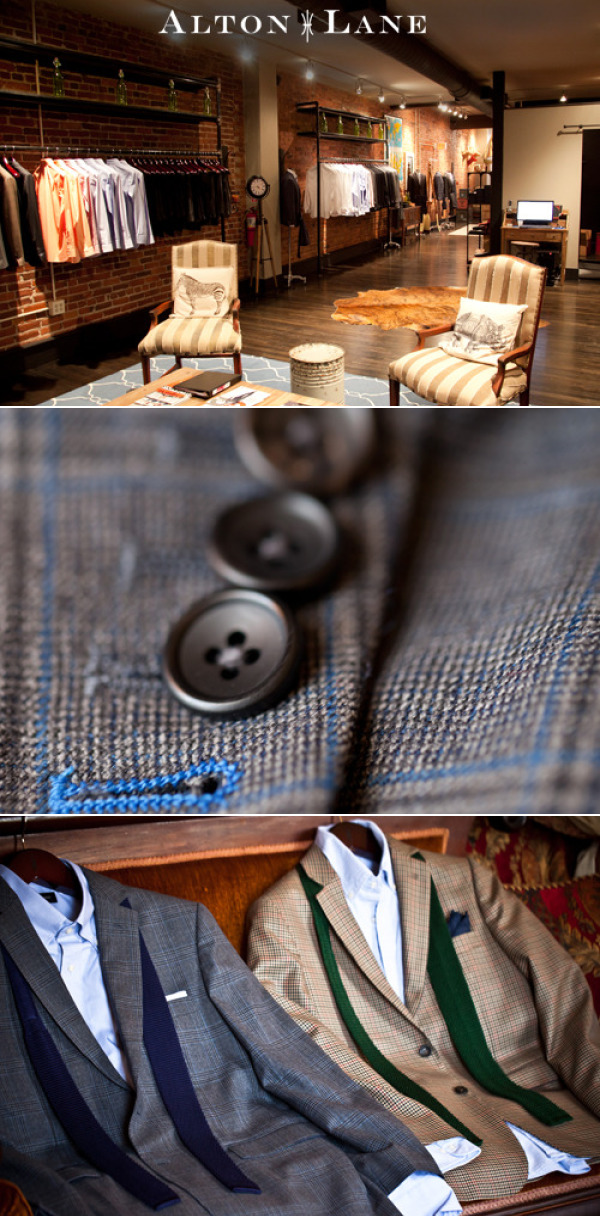 About Alton Lane… Alton Lane sets itself apart from other bespoke clothiers in several important ways: fit and quality, shopping experience, and affordable price points. They source their high-quality fabrics from the top mills in the world, many of which are located around Europe. Many of these are the same fabrics you'd pay thousands of dollars for at traditional retailers, but Alton Lane believes that this quality should be accessible and affordable. Suits start at $ 595 and our tuxedos start at $ 670, and they have a great selection of spring, summer and fall/winter weight fabrics to choose from. Black tie formal or beach-side — they've done it all! 
Alton Lane also uses a 3D body scanner in all of its showrooms to create a digital pattern and provide a true bespoke fit without requiring four or five appointments like the traditional bespoke clothiers of Savile Row. Grooms and wedding parties can pick out the all the details of the cut and style as well. Vents, pleats, cuffs, buttons, collar style, lapel style — these are only a few of their custom options for creating the perfect fit and look. In addition to great fit and high-quality fabrics, dressing for a wedding with Alton Lane provides a groom and a full wedding party with so many fun ways to really craft and style a customized, personalized look for the day. Monograms, lining color, accent colors, stitching color, last button hole in the same color as the bridesmaids' dresses — you can even include a wedding date or a special message to your bride on the inside of your jacket. All of these options are included in the pricing, so there's no need for hemming and hawing — include whatever cool touches you want!
Alton Lane is THE shopping experience for those who dislike shopping! For those grooms who shudder at the thought of the snootiness of traditional retail stores or balk at feeling like a number at the rental tuxedo shop, it is a dream come true! Each showroom has a handcrafted bar and flat screen TVs with the game on. Customers relax on cushy leather couches, with a bourbon or drink of choice in hand, and select fabrics with style and fit experts. When you're outfitting your wedding party in Alton Lane, everyone is invited into the showroom for a fitting party — with drinks and a place for everyone to relax and enjoy planning for the big day. The experience is totally personalized — Alton Lane can and does cater to everyone from celebrities to college students buying their first interview suits! 
There are Alton Lane showrooms in NYC, Washington DC, and Boston — and more are coming soon to Dallas, Chicago and the west coast. However, Alton Lane has customers in nearly every state and has tried and true methods to get great measurements from a distance as well. So don't fret if one of your groomsmen is located halfway across the country — or even on the other side of the world. All in all, Alton Lane strives to put the groom on a pedestal! They know the bride is always the eye-catcher but are committed to making the groom look fabulous enough to stand up with her!
And be sure to enter the Alton Lane pocket square giveaway here (exclusive to SMP readers) and Alton Lane's bespoke suit or tuxedo giveaway here. Good luck! 
Welcome, welcome! We couldn't be more excited to have you join the SMP Massachusetts family! xoxo
© Style Me Pretty : The Ultimate Wedding Blog, 2013. | Permalink | Comments | Add to del.icio.us
Post tags:
Post categories: Sponsored Posts, Welcome Post


Style Me Pretty : The Ultimate Wedding Blog