Adorable duos.  We love 'em.  And adorable duos who DIY their Big Day with the help of devoted family and friends?  We love 'em even more.  Because there's just something sooo amazing (+ heartwarming) about a handcrafted wedding, especially one that includes yummy cupcakes from grandma, handcrafted jewelry and pops of bright teal.  See every last crazy fun moment captured by Jessica Leigh right here.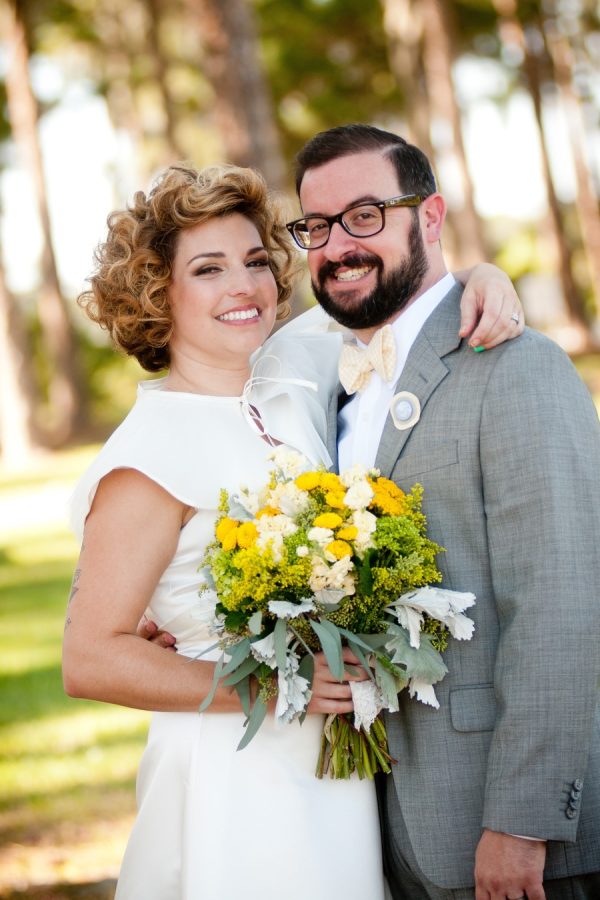 Oh, and we're not done yet.  Check out this beautiful film from Alex Meissner for even more cuteness.  It's awesome.
From the Bride… Jacob and I got married outside on the most perfect Sunday October afternoon. We wanted the ceremony to be outside among the pine trees, and the reception to be inside. To keep all of our 270 guests well fed we hired food trucks.
Jacob found an old Southern tradition of burying a bottle of bourbon upside-down a month before the wedding at the site of your wedding to bring good weather the day of the wedding. It worked!!!
I love creating and coming up with new crafty ideas, so my wedding was the perfect showcase for that. I started collecting trinkets from far and wide to spray paint the 2 shades of teal that I had purchased. Our colors were yellow and gray with pops of teal, and the pops came from my bridesmaids shoes and jewelry and the centerpieces at the reception.
Our wedding was such a team effort and we are very fortunate to have the friends and family that we do to help make it what we dreamt it to be. We asked our friends to sing, play guitar and violin for the ceremony and my coworkers and friends did hair and makeup for us. My friend made the necklaces for my bridesmaids, our friend made the cupcakes for our guests, and my grandma made cookies for dessert. Our friend's band was our main source of entertainment and our friend DJ'd in between the band sets.
We used local food trucks for the cocktail hour (La Empanada) and main meal (Taco Bus) and a food cart (Big Bruno's Bites) for snacks to grab on the way out of the reception. We were so lucky to have our friends with us every step of the way, including our friend Summer who helped plan and was our day-of coordinator. We couldn't have done it without her.
We wanted the day to be fun for all with lots entertainment like a photobooth, beautiful setting, live band, a postcard style guestbook, many treats and food to choose from. We wanted everyone to dance, eat good food, take home any and all of the centerpieces. If I could describe my wedding i would say: fun, eclectic, crafty, tasty, and full of love.
Wedding Photography: Jessica Leigh | Wedding Venue: Pines of Windermere in Windermere, Florida | Wedding Cinematography: Alex Meissner | Floral Design: Colonial Florist | Event Planning + Design: The Bride + Friends | Photobooth: Fotobox | Caterer: La Empanada + Taco Bus + Big Brunos Bites | Wedding Invitations: Brian Manley | Wedding Stationery: Hugo Giraud Jr. | Wedding Dress: Milanoo | Alterations: Hung's Tailor's (407.898.9907) | Cape: Karolin Felix Dream | Shoes: Vivienne Westwood + Miss L Fire | Ties + Bowtie: The Belle and the Beau
© Style Me Pretty : The Ultimate Wedding Blog, 2013. | Permalink | Comments | Add to del.icio.us
Post tags:
Post categories: Do-It-Yourself Inspired


Style Me Pretty : The Ultimate Wedding Blog