Another week of pretty has come and gone, but before we send you off to all your Easter egg DIY-ing and tablescape styling, we have one more fabulous feature up our sleeves. It's the kind of feature that makes us sit back and remember why we truly love what we do. From this crazy cute couple to the California bluffs, we're totally smitten with this e-sesh captured by the one and only Bryce Covey. Set aside some time to swoon in the full gallery here.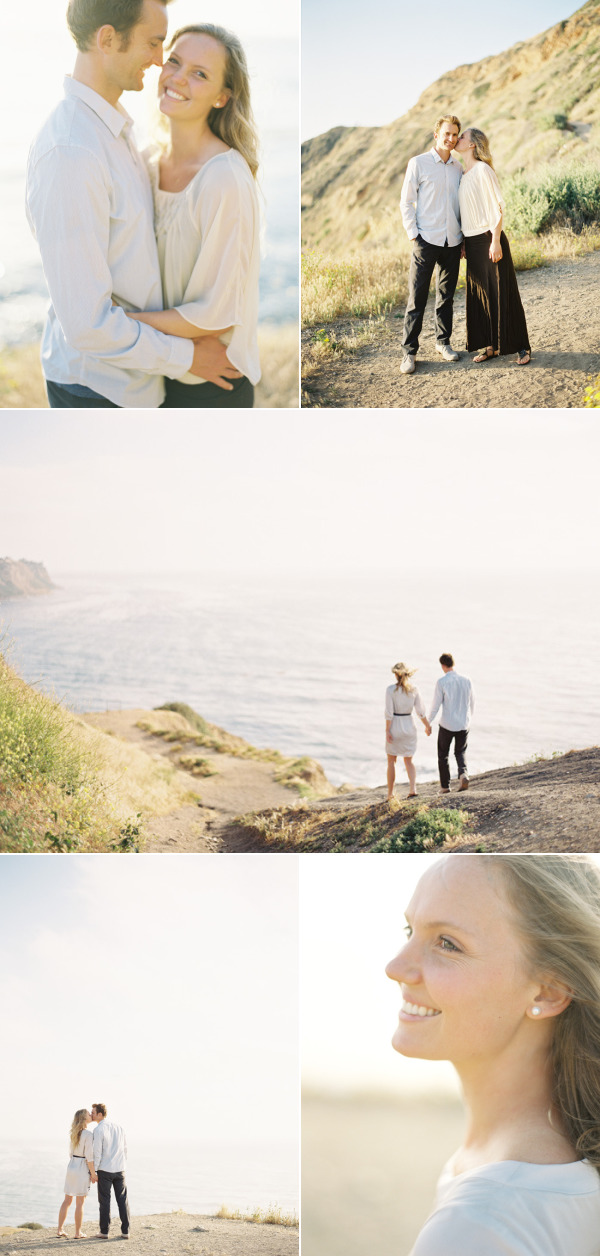 From the Bride… Moving to Los Angeles as a couple and beginning our married life there, we wanted our engagement photos to capture the organic beauty of the coastline of our new city. One thing we love about Los Angeles is the use of outdoor space is such an urban setting. Just a few minutes from our home was the perfect setting: rock beaches, hiking trails, a gorgeous view out to Catalina Island. We had a wonderful time and love how Bryce's photos capture the joy of this very exciting time in our lives.
Photography: Bryce Covey Photography
And now it's time to announce this week's winners!
The lucky duck to win her choice of bling from the Prim & Pixie jewelry line is Anastasia. Yay, Anatasia!
Elizabeth, you're the winner of 20% (up to $ 450) off of a custom-designed wedding suite by And Here We Are. Congratulations!
Guess what Jen? You're going to receive a FREE engagement portrait session from Kelly Vasami Photography. How exciting is that?!
Next we have Caroline and Rachel who won their choice of Pretty Plum Sugar robes: Castelbel & Trumpet Boat Neck Dress (Value $ 62), the Lil' Getting Ready Dress (Value $ 62), the Maxi Dress (Value $ 68 – $ 136) or the Silk Road Sweet Robe (Value $ 124)
Big congrats to Lindsey who won a Level 3 "Simply Yours" print from Hoot Design Co. You go, Lindsay!
Watch out, Kathryn, SoontobeLombardi and Anne! You ALL will receive a discount of $ 499 off of any full-day wedding package by  W Studios New York!
And last but not least, we have Cathleen and Kaity who each won a $ 200 gift certificate to spend on stationery at Sweet Penelope!
Have a happy, happy weekend, dear lovelies! We'll meet you back here on Monday for even more pretty! xoxo
© Style Me Pretty : The Ultimate Wedding Blog, 2013. | Permalink | Comments | Add to del.icio.us
Post tags: Engagement, Wrap it up Pretty
Post categories: Engagement Session, Round-Ups, The Blog


Style Me Pretty : The Ultimate Wedding Blog