I, personally, am completely enamored with this Behind the Blog series. It's so nice to be able to dig deeper and garner some inspiration from some of the crazy talented ladies that I've followed for years and years now. And Caitlin Wilson is absolutely, unequivocally no exception; I mean, the girl oozes pink and pretty in the very best way. Call me a nosey nancy, but I adore peeking inside her bright and colourful home, and getting to know a little bit more about what makes her the powerhouse she has recently become. Check out the rest of her fabulous home in the gallery!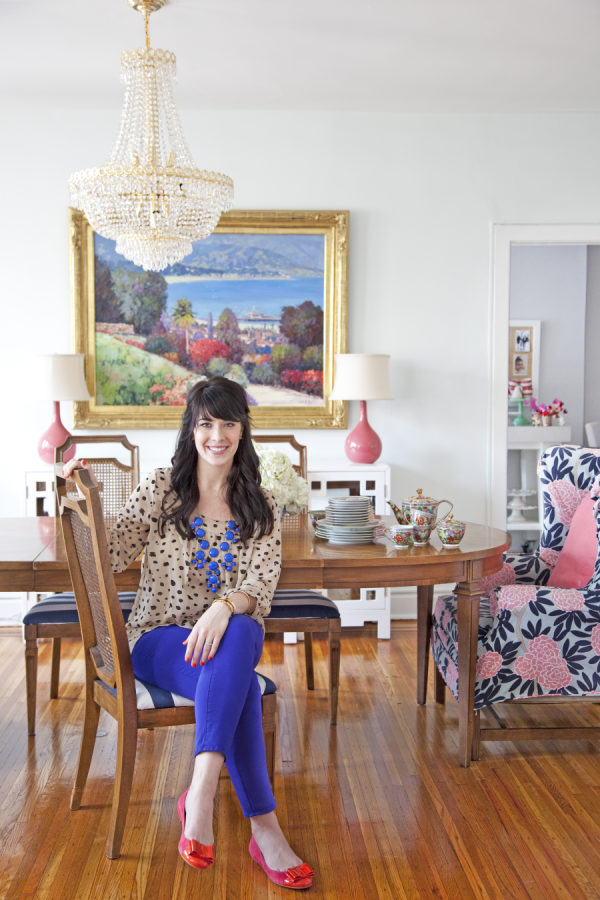 SMP: Some words you live by?
CW: Be passionate & present.
SMP: Guilty pleasures?
CW: Dr. Pepper and chocolate chip cookies
SMP: What did you think your dream job was before your dream job found you?
CW: I actually wanted to be a hair stylist when I was growing up! I think I always knew I would do something creative as I had always been somewhat artistic. I figured out that I loved interior design when I got to college and started decorating my own apartments. I would daydream about what I could change or paint in my room while I was in class. Luckily, I realized I could make something out of it and started taking art history classes which eventually led me to changed my major. I still wish I could cut hair but I'm so grateful to have found my niche.
SMP: What's your favorite quote that describes your creative process?
CW: When I design a room, I usually work backwards starting with a fabric that I love. Fabrics and pillows are the key to creating or pulling together a color scheme in a room. I love how pattern & vibrant color bring a space to life.
SMP: If you had the opportunity to get a message across to a large group of people, what would your message be?
CW: Find a way to make your passion your career and it won't feel like work at all. Life is such a thrill when the everyday excites you!
SMP: If you could do it all over again, would you change anything?
CW: Not a thing.
SMP: What is one piece of advice you would give to a blogger just starting out?
CW: Be yourself and do something different. There are so many blogs out there these day so it's hard to find original ideas- get creative with your talents! Introduce yourself to other bloggers and try to create a network. Host a series or event to bring bloggers together.
SMP: What is your favorite item in your home?
CW: Either my vintage Baker brass console table or a floral still life painting of peonies & poppies that my parents gave me.
SMP: What's your best tip for balancing work and personal life?
CW: Check out at 5. I don't always succeed but most nights when my husband gets home and my assistants leave, I shut the office door and forget about work. My family needs my full attention and I need recovery time to feel inspired & enthused.
SMP: What was the tipping point in your business that made you feel like your blog was going to thrive?
CW: When I moved to Dubai I was at a crossroad… I could forget design and take naps everyday with my little girl or I could get creative and do something with my spare time. I started sharing my ideas and experiences on my blog and before I knew it a few local magazines had found me and wanted to interview me!
SMP: What is the hardest lesson in business you've ever learned?
CW: Double check, double check, double check. When it comes to design, you must be very precise. Design mistakes can be painful & expensive. You should put everything in writing and always double check colors, materials, and specifics.
SMP: Stranded on a desert island question… what's the one cocktail you would take with you?
CW: Virgin mint mojito!
SMP: What color do you think will stand the test of trend time?
CW: Coral. It's not as trendy as hot pink, not as bold as red and can work with a variety of styles and personalities. To me, it's a neutral.
SMP: One thing every style savvy homeowner should have?
CW: A great console table…you can move them around and style them up in so many ways!
SMP: If you could buy yourself a single gift of any cost, what would it be?
CW: A southern Colonial home transplanted to the West coast! No big deal, right?
Photography: Courtney Apple Photography | Interior Design: Caitlin Wilson Design | Textiles: Caitlin Wilson Textiles
© Style Me Pretty : The Ultimate Wedding Blog, 2013. | Permalink | 1 comment | Add to del.icio.us
Post tags: at home, Behind the Scenes, Bright, Caitlin Wilson, cheerful, colourful, Inspiration, Interior Design
Post categories: The Blog


Style Me Pretty : The Ultimate Wedding Blog