Hailed as the queen of all things lovely, Joy Cho of Oh Joy! has been a constant source of inspiration for us here at SMP as her blog has always oozed style, approachability, and flat out gorgeousness. So we couldn't be more excited to share some behind the scenes with Joy goodness for you today, the first of a fun ongoing feature we're calling Behind the Blog. Joy is giving us a quick peak into her gorgeous LA abode (designed by the crazy-talented Emily Henderson, no less) then she's diving deep into the lessons and ideas that make her so successful and inspired. You can see the full gallery of images (and her adorable Joy-filled sidekick) here!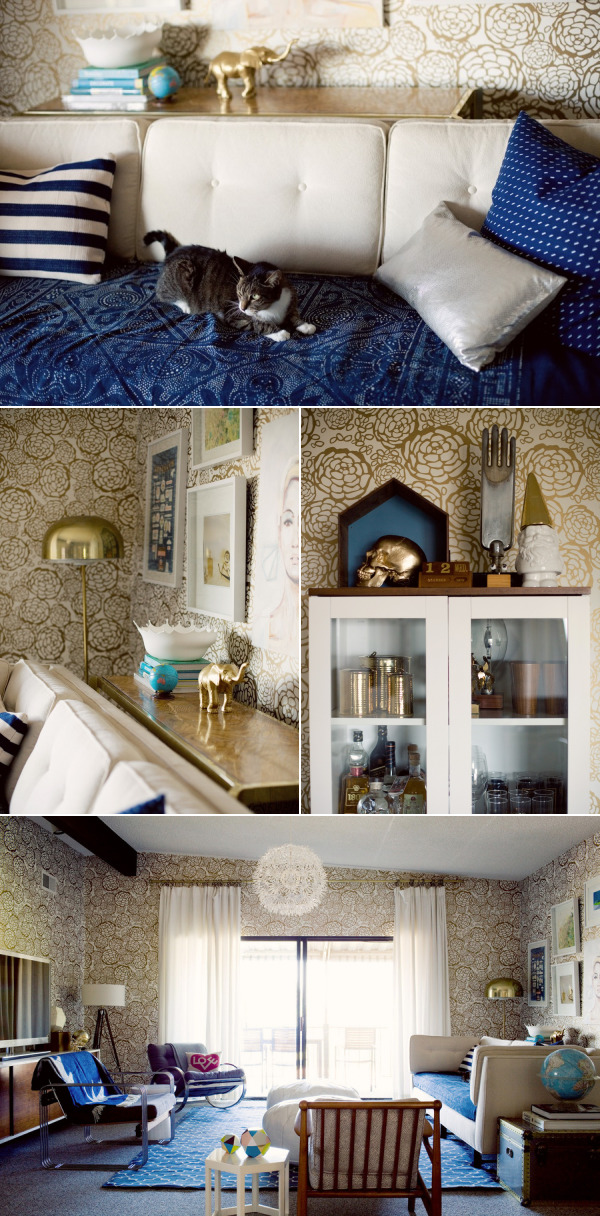 SMP: What are some words you live by?
Joy: It's better to have tried and failed then to not have tried at all.
SMP: Any guilty pleasures?
Joy: Ice cream, hands down.
SMP: What did you think your dream job was before your dream job found you?
Joy: A martial arts stunt woman.
SMP: Favorite quote that describes your creative process/ live by?
Joy: Always strive to be the best at what you do.
SMP: If you had the opportunity to get a message across to a large group of people, what would your message be?
Joy: If you love what you do and you work hard at it, you'll accomplish more than you ever thought possible.
SMP: If you could do it all over again, would you change anything?
Joy: Nope! There are plenty of things I regret doing or not doing, but those all resulted in lessons learned.
SMP: What is one piece of advice you would give a blogger just starting out?
Joy: Be genuine. Be you. Don't worry what others are doing. Everyone has something to say and to offer, so what will you share with the world through your blog.
SMP: What is your favorite item in your home?
Joy: Probably our vintage Danish modern chairs. They'll always seem current to me but I love that they have a history and have lived in other homes before.
SMP: What's your best tip for balancing work and personal life?
Joy: It's more of a juggle for me for sure as balance implies that there is a perfect way of managing it all and there's not. We all do the best we can. My biggest tip is scheduling out both my work and personal obligations as much as possible, so that I know that I'm not over-promising things that I don't have the time for. Also, get help! You can't do everything yourself. So, if that means getting your partner to help with dinner more, having childcare while you work, and/or getting help with your business, let others help you!
SMP: What was the tipping point in your business that made you feel like your blog was going to thrive?
Joy: Once I was able to say no to most of my freelance graphic design work, I knew that my blog was becoming profitable enough that I could focus on that and only the projects I really wanted to do.
SMP: What is the hardest lesson in business you've ever learned?
Joy: In order to grow, you have to give up a little control. You have to trust other people (your laywer, your accountant, your freelancers, your assistant, your agent, your manager, etc…) that they'll get the job done for you. And, ideally, they'll do it better than you ever could!
SMP: Stranded on a desert island question…what's the one cocktail you would take with you?
Joy: I don't really drink, so can I take a milkshake instead?
SMP: Color that will stand the test of trend time?
Joy: Gold
SMP: One thing every style savvy homeowner should have?
Joy: A mix and match set of plates. Plates and bowls are my weakness, but at least they can be used when friends and family come over to share delicious treats and bites.
SMP: If you could buy yourself a single gift of any cost, what would it be?
Joy: Probably a really beautiful pendant lamp. I am kind of obsessed with them but would rarely buy then since they are pricey and not easy to install!
Photography by: Bonnie Tsang | Styling by Emily Henderson | Products/sources can be pulled from: Oh Joy
© Style Me Pretty : The Ultimate Wedding Blog, 2013. | Permalink | 2 comments | Add to del.icio.us
Post tags: Behind the Blog, Blogger, Decor, Emily Henderson, interior, Interview, Oh Joy!
Post categories: The Blog


Style Me Pretty : The Ultimate Wedding Blog