My maiden name happens to be Shaughnessy, which is just a wee bit Irish, so when St. Patrick's Day rolls around, I can't help but to break out the green (and maybe a jig or two). But what I really love, is St. Patrick's Day gone stylish. Where we can celebrate this beloved holiday with a side of sophistication. And we can do just that today thanks to this shoot from Lukas & Suzy VanDyke. It's guaranteed to make your eyes smile, Irish or not, and it's all waiting for you right here.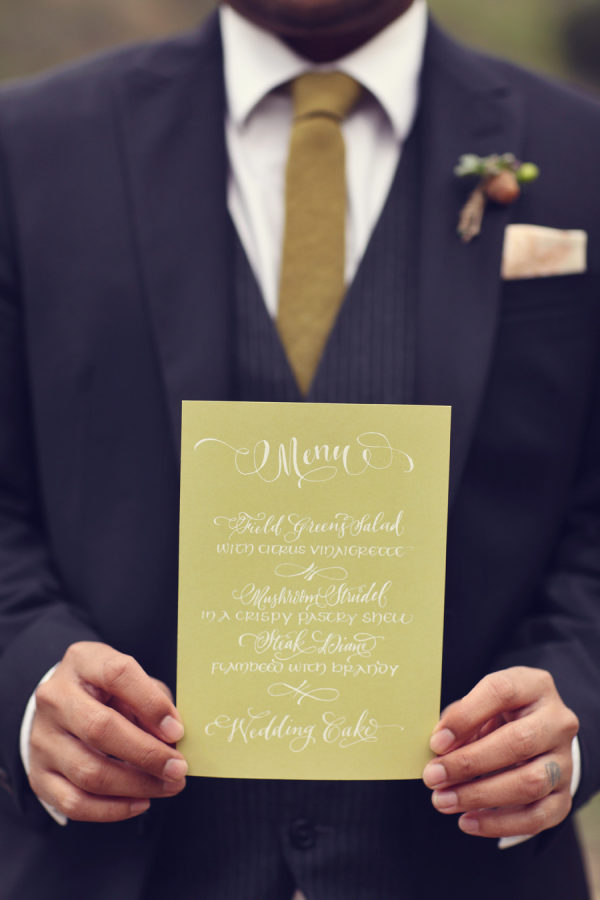 From Lukas & Suzy VanDyke… Every year around St. Patricks Day, I start day-dreaming about misty hills, raw rugged beauty, and of course as a wedding photographer, I put a gorgeous bride (redhead of course!) and groom hand in hand right there in that mental scene. So with that vision, I decided to create a "fairytale" Stylized Shoot with hints of Irish tones weaved throughout.
Our china and table settings were green viney earthy tones, and Bailey from Antiquaria hand-calligraphied our menu and place settings using two separate traditional Celtic fonts. Our cupcakes had the Claddagh irish symbol for love, loyalty and friendship. The moss and clovers added a subtle green twist without going overboard. An Irish bride could use some of these ideas to celebrate her heritage in a chic way, or someone planning a wedding in the month of March could also have fun with it! The one thing I was really hoping for was some rainclouds, which in SoCal is hard to predict months ahead of time. So when it started sprinkling the morning of the shoot, I was so excited! It cleared up just enough for us to shoot, but those big gorgeous clouds set the perfect vibe for what I was going for! 
Photography + Concept: Lukas & Suzy VanDyke | Event Decor: Antiquaria | Floral Design: Sweet Violets | Cinematography: Liz Muehlman | Coordinator: Laura Pedrino +  Brittney Eischens | Cupcakes: Joanne Paucar | Models: Rich + Christine from The Yodsukars | Wedding Dress: Deborah Lindquist | Groom's Tie + Pocket Square: Pocket Square Clothing | Hair: Alex West | Makeup: Beautiful Faces By Denise
© Style Me Pretty : The Ultimate Wedding Blog, 2013. | Permalink | Comments | Add to del.icio.us
Post tags: Inspiration, inspired session, inspired shoot
Post categories: The Blog


Style Me Pretty : The Ultimate Wedding Blog